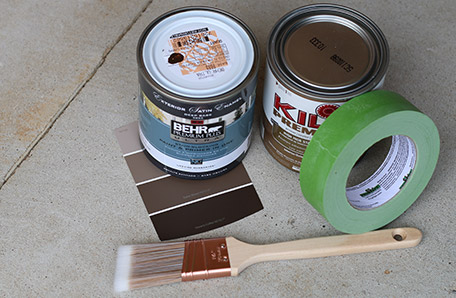 I went to my local Home Depot® and looked through the BEHR paint colour chips. I love this part of the project! There are brochures on colour combinations, finishes, room ideas, etc. I looked at several of the brochures for inspiration.
I wanted a paint colour that would blend in and compliment the multi-colour brick. The wood door was painted pale tan years ago and it looked washed out against the bricks. I thought a richer, deeper colour would look great. I ended up with three colour chips to take home. The colours ranged from medium to dark brown.
I taped the paint chips to the brick and to the door. Paint colours look different in the store than they do in natural light. The difference in colour between the three chips was much more obvious. One of the colour chips had a tan/yellowy undertone, one had a hint of gray, and the other had green undertones. I looked at the colour chips in different light throughout the day since colours tend to look different in morning light versus late afternoon light.